Polo sports shirts can be found in wardrobes of men, women, boys, and girls owing to their high demand and popularity. They fall in between a tee and a dress shirt. Wholesale polo sports shirts are perfect garments for life events that are not at all formal, but also are not outright casual. A polo shirt is a great shirt to wear when you do not have any idea precisely where the plans for your day or evening will take you. In terms of casual everyday wear, the cool and breathable polo is just as easy and comfortable as a tee. 
The Popularity of Polo Shirts:
The polo shirts have been popular for many years among athletes. The polo players, tennis players, and golfers; all adore wearing polo sports shirts. Sometimes, in a year, the polo sports shirts become a fashion trend. Many business owners make the most of the embroidered polo sports shirts by utilizing them as their company uniforms. So the point is that polo shirts are high in popularity among athletes, businesses, and fashion enthusiasts.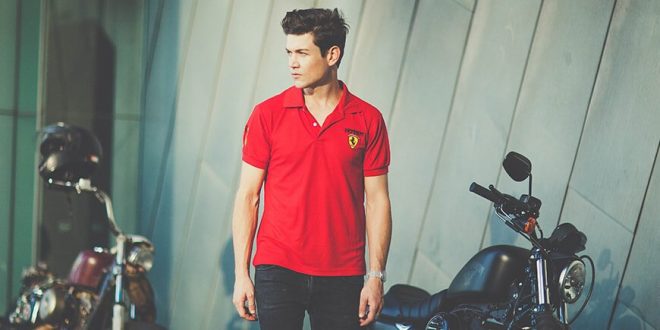 The Fabrics for Polo Sports Shirts:
It is significant to understand about the fabric in which polo shirts come in. Some polo sports shirts are made up of silk, but such polo shirts sweat easily and lose their colors. Cotton/polyester blend extends the life of a shirt, but they are less breathable still, cheaper. Wool blends polo shirts look a little more formal. The most recommended fabric for wholesale polo sports shirts is either 100% polyester or 100% cotton. Cotton has a breathable property and polyester has durability as its property.
Also Read: 7 Stylish way to flaunt Your Leather Jacket
Fit for Polo Sports Shirts:
If you want to wear a polo shirt with style, then you need to consider about its fit. There are 2 criteria to check the fit of polo sports shirts. Here are those criteria:
Length:

The bottom hem must not hit too far than halfway down pants – no higher than the hips and no lower than some inches below your waistband; so a shirt needs to be long enough that you can tuck it in and short enough so that you can wear it untucked.

Sleeves:

They should hit about midway down your bicep, and run no further than two-third down your upper arm.
Overall, the polo sport shirt should sit close to your body – fitted and not too tight.
Dos and Don'ts of Wearing Polo Sports Shirts
Wear athletic polos only if you are on a golf course or a tennis court.

Do not wear an undershirt if you are wearing a polo, as polo shirts are meant to be worn as a base layer shirt.

Button at least one of the buttons of your polo shirt.

Do not layer polo upon a polo. You need to wear one polo at a time.

Feel free to tuck or untuck a polo depending on the occasion. 

Do not pop the collar of a polo sports shirt. 

Have a core collection of polo shirts in neutral colors, such as white, gray, black, and navy.

Do not choose a polo shirt with a pocket, unless you feel secure in it.

Buy

wholesale polo sports shirts

if you cannot pay much to buy big-ticket polos. 

Do not opt for a polo sports shirt that has a large logo imprinted on it.

Try utilizing your polo sports shirts for casual or formal events.

Do not wear a long sleeve polo if you want to breathe freely in a polo shirt.
Can You Look Stylish in a Polo Sports Shirt?
Of course, you can look stylish. However, to achieve a sense of style; you may have to do some experiments. Here are some styling options for you:
Lose the buttons of the polo sports shirt.

Mix and match a polo sports shirt with a suit.

Go for striped polo sports shirts.

Go beyond the pale colours.

Pair a polo sports shirt with pleated trousers.
Conclusion:
A polo shirt is this much popular item that you will find it in the closets of men, women, boys, and girls. It has been a famous piece of clothing among polo players, tennis players, and golfers for many years. There are different fabric blends of which polo shirts are made up of with positive and negative characteristics of the fabric blends. If you want to wear a polo sports shirt stylishly, then you need to have a look at the length and sleeves of a polo sports shirt.
There are some dos and don'ts of wearing a polo sports shirt, so you should be very cautious while you wear polo sports shirts. There are multiple styles that you can adopt to look stylish in a polo sports shirt. Lastly, the styles of polo shirts have made them very popular in recent years.