In our routine life, we need to perform many tasks that are time-consuming but very important. At times, we need to scan documents, need PDF files for easy transfer, translate some text in other languages, etc. And an effective image to PDF app can rescue us from spending a lot of time generating sharp PDFs.
Also, a few images to PDF converters offers many other functionalities that can help us be productive.
7 Best Image To PDF Apps For Your Devices In 2020
PDF scanner apps help you generate PDF files anytime anywhere using your mobile devices. Here we share a curated list of best PDF scanner apps for Android and iOS devices.
FlashScan is the best PDF scanner app for Android devices. This Indian document scanner app offers many useful features. Take a look at its functionalities:
It is the best free camera scanner app. You can scan various types of paper for free using this app.
FlashScan gives a robust OCR, which is the best text extractor. It also assists you to translate the before-mentioned scanned text from English to other languages.
It also scans QR and Barcodes. You can immediately view product prices with scanned barcodes and match them online.
Favourite Documents can help you easily access the frequently used documents.
This app gives expert post-scan filters that intensify the results. Grey mode, Magic color, Original, Black, and White 1&2 are unique filters.
You can anytime save, share, rename, and delete any files and folders of the app.
FlashScan offers the 'Sort By' trait to declutter document mess.
Don't just go by the name. This app is not just for documents. It can scan more than documents.
It can convert images like JPG to PDF.
Users can scan ID cards, bills, photos, invoices, etc with this app.
Doc to PDF is a simple to use and easy to navigate app.
You can email the converted PDF file from within the app.
Scans all sorts of papers.
It is one of the best image to PDF app on our list. You can anytime use this PDF scanner app for android to scan documents.
No internet is needed for the conversion.
It is also useful in converting other types of files to PDF.
No limit for conversion. You can convert any size of the file with this app.
Converts various file types to PDF including Word and Excel.
Yet another app in our list of an image to PDF converter, is PDF photos. Here are this app's features that make it one of the easiest apps.
A simple yet effective iOS app.
Once the photo has been transformed to PDF, you can quickly share it.
For sharing email and cloud storage options are available.
An easy to use with a clear user interface.
Also Read: Easy Solution to Migrate MSOutlook PST out of Windows XP into Windows-7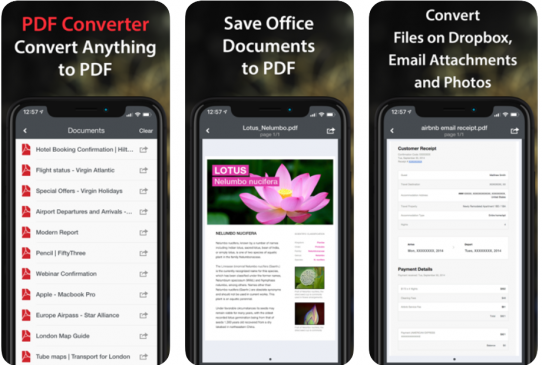 We can not afford to miss this ios app while we make a list of PDF scanner apps for iOS. Take a look at its features-
It is also accessible with an iPad and can be used to convert any file to PDF including images like JPG.
You can anytime download documents from the cloud, web or email to convert them in the PDFs.
After conversion, you can easily share it through Twitter, Facebook, and email.
Offers multiple features with a simple interface.
 An image to PDF converter needs to be simple yet very effective. And Cam to Pdf is the app that exhibits the same qualities. Here are some of its features that are worth knowing.
With this app users can convert any file type to PDF easily.
An easy to use app with accurate performance.
Converts various documents, bills, notes etc quickly.
The last app in our list of an image to PDF apps is JPG to PDF converter. As the name suggests, it is a dedicated app that converts any image into PDFs in no time. Here are some of the features that made this app a brilliant PDF scanner app.
Allows an image to PDF conversion even in an offline mode.
You can protect your documents with a strong password.
Users can anytime convert multiple images into a single PDF.
It allows you to set page sizes for PDF, like Legal, A4, and more.
Offers Single Page, Continuous scroll, or Reading mode.
Conclusion
PDF scanner apps generate clean and sharp PDFs on the go. With these apps, you can scan anything anywhere! Use any of the above-mentioned images to PDF app to simplify the task of PDF file generation.