Transitioning to natural hair is undoubtedly not the easiest phase to go through for most people. When you undergo a certain hair treatment like straightening your healthy wavy hair or curling your straight natural hair, you might forget that such processes might slow down your transition process and make you start a little step back after the treatment has faded out.
In about 3 to 4 weeks, however, you would be lucky to get back on your transition journey when your natural hair starts growing out, and you start realizing you're getting new growth beneath or if your hair goes back to the transition state.
Transitioning is not an unusual thing, and it is more common to find people with naturally wavy hair struggling with it more in the early stages. Transitioning natural hair without a big chop is what most people term a headache since you actually have to maintain two different types of hair at the same time. The journey may be difficult to go on, but if you have these three transition hair products in your bathroom, we can say that the process would be a lot easier:
#1 A Sulfate-free shampoo
Whether transitioning or not, if you love your hair, you should never use a shampoo that contains sulfate. It can be very harsh to your transitioning hair. The point where the treated hair meets your new hair is really fragile and prone to breakage. If you are not using the right hair care shampoo, you may experience excessive hair fall due to breakage. Invest in a good sulfate-free shampoo of your choice, and you'll be glad you did in the long run.
Not only are they recommended by many professional hairstylists, but many people have come to realize that their hairs correspond better and are a lot healthier when they use products free from sulfate on them. People with mixed curly hair, especially, are at a higher risk of damaging their hair if they continue to use products with sulfate.
#2 Deep conditioner Especially For Healthy Wavy Hair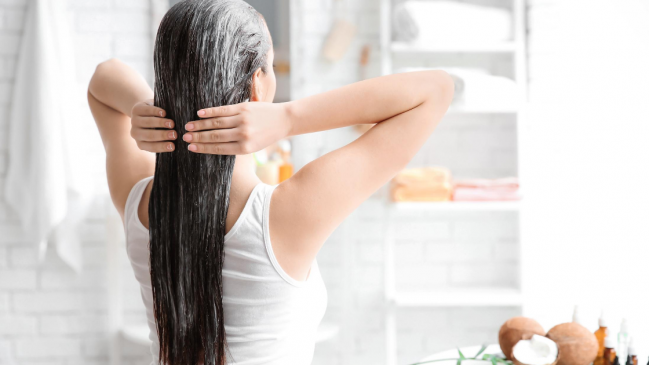 While transitioning to natural hair, get used to deep conditioning your hair on a regular basis. Deep conditioning can help with brittle or damaged hair. It makes your hair more hydrated, soft, making detangling, and styling easier. It also helps in strengthening the hair and avoiding breakage at the line of demarcation, where your straight hair and wavy hair meets.
Also Read: Should You Walk on Treadmill During Pregnancy
Go for a product that can work well with multiple hair textures ensuring moisture and hydration. The products infused with Argan oil can do wonders for your transitioning hair. Argan Oil is a type of oil comprised of Omega 3 that helps in preventing hair loss, and Omega 9, which helps in repairing damaged hair follicles. Argan Oil is also good for hair, especially dry hair, and you can use it to oil your scalp, which is an important part of transitioning from relaxed to natural hair.
Ingredients like sea kelp and argan oil help seal and smooth hair cuticles and give hair lasting shine, making you rock any of the transitioning hair hairstyles. Make your transition as smooth as possible by investing in the right moisture-rich, mineral-packed conditioners. 
#3 Hair moisturizing products
Sometimes your natural hair is drier than the relaxed or straightened outgrown hair. If you use a moisturizer that is too heavy, your natural hair may feel lively, but your ends will look wet and greasy. Likewise, if you go for a light moisturizer, your treated hair will look springy, but your natural hair will look parched. Choose your moisturizer wisely. The key to surviving through transitioning is to instil the right amount of moisture in your transitioning hair.
Use the product that moisturizes effectively, seals lightly, and helps impart shine, improve elasticity, and nourish the hair. There are many styling products that also serve as a moisturizer. Use a nourishing hair oil like argan oil or Jojoba oil to moisturize your hair at least twice a week, before shampoo.
Conclusion
Positivity is one of the most important requirements when transitioning to natural hair. Many people overlook this "must-have," but it as just as needed as all the other things mentioned in this article.
Constant worrying and stress could lead you to make certain decisions that may be bad for your transition process, and this might make you spend more time on your journey than you would have if you were more positive and patient.
You do not need to rush with transitioning your hair as it is usually a slow and steady process that may take months or even a couple of years to transform into the state in which you desire. Try to be patient with yourself and with your healthy wavy hair and choose the right products to help make this journey a more comfortable and stress-free one.